Harp for Weddings and Special Events
It's been a great joy and a blessing to be able to play for so many people over the years. Whether it's a concert, one of many different types of engagements, or in the privacy of my own space, playing the harp is what I love to do. There seems to be no end to places where harp music can enrich the environment: weddings, gallery openings, conferences, fairs, festivals, birthday, anniversary and tea parties, funerals, baby blessings, hospitals, rehabilitation centers, nursing homes and restaurants. I've found the harp can calm things down, liven things up, and always seems to add a very special spirit and elegance.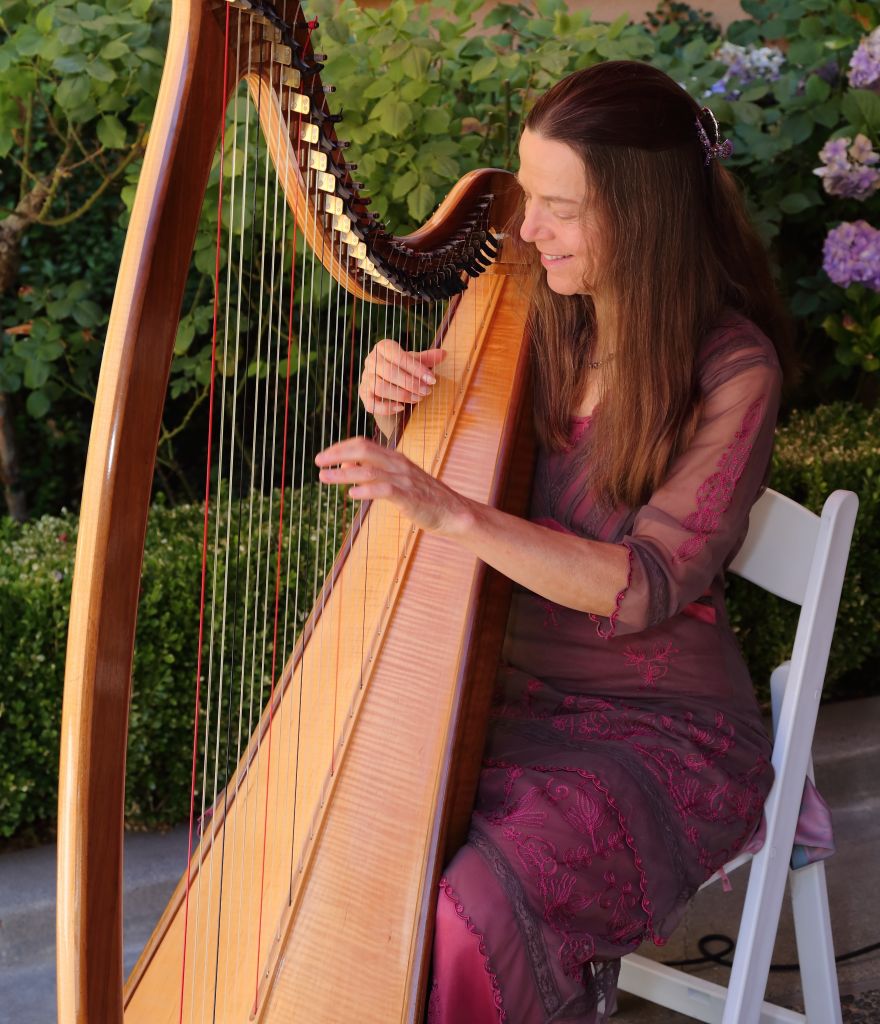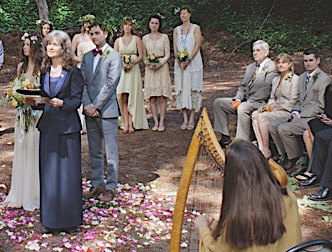 Every wedding I've played has been as special and unique as the people who are being wed, and it's always an honor for me to play at a couple's wedding. I've played harp at hundreds of weddings: traditional ceremonies, ones where the couple have created their own rituals and harp music accompanies poetry, candle-lightings, prayers or meditations. I've played elegant weddings in fine hotels, and ceremonies out in nature on mountaintops, fields, and by the sea. I always aspire to connect the harp music I play to the bride and groom and their wedding party, and to set the right mood for their guests before the ceremony, or for the reception.
Whether it's playing for the sick in a hospital, to help celebrate the holidays, to enrich an art opening, for a baby's christening or a group of senior citizens at a nursing home, the beauty and magic of the harp can enrich a gathering. I look forward to sharing my harp music with many new friends over the years.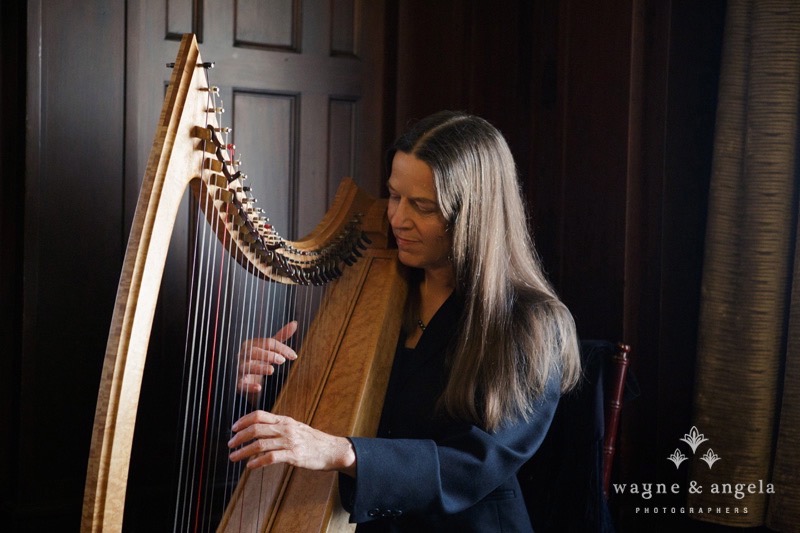 Bay Area venues where I've played:
Mill Valley Film Festival
San Anselmo Wine Festival
San Francisco Whole life Expo
Four Seasons Hotel
Ritz Carlton Hotel
Fairmont Hotel
St. Francis Hotel
Grace Cathedral
St. Mary's Cathedral
Franciscan Monastery
Community Congregation Church
Trinity Church
Stanford Hospital
Children's Hospital
Laguna Honda Hospital
Mission Neighborhood Health Center
Lake Park Retirement Center
Rossmoor Retirement Center
Yerba Buena Gardens
Wildwood Acres
Palace of Fine Arts
Esalen Institute
Nyingma Institute                   Veterans Memorial
Mission Dolores
Numi Tea Garden
Green's Restaurant
Brezo Restaurant
Marin Mountain Play
Bread and Roses
Gilroy Garlic Festival
Russian River Jazz Festival
Haight Street Fair
Hanson Galleries                     Vorpal Gallery                            Koret Auditorium                     Noe Valley Ministry                      Clos du Val Winery              Markham Vineyards          Hesperian Winery              Monticello Winery                      Luna Vineyards                        Chapel of the Chimes                Public libraries                           Gallo Center
COMMENTS:
Words can't begin to express the gratitude, admiration, and love I have for Diana. She communicated the whole step of the way via email and text, helped us select the proper pieces to play in our wedding ceremony, and had genuine care and interest in our upcoming marriage. I would absolutely recommend hiring her for your upcoming event. She is a beautiful harpist and beautiful person, inside and out. Thank you so much Diana! You truly made our ceremony so special with your music and the love you carry in your heart. ~ Alicia Estrada, Bride
My first child got married a little over a year ago. Diana Stork provided beautiful harp music while our guests were seated, and again for the processional, and recessional of the bride and groom.  As this was my first child, I had never done this before.  Diana was wonderful and understanding. Her music was beautiful, accomplished, and, well, just perfect for the occasion.  She arrived before our guests, and gave them a lovely welcome. This was a wonderful time for us, but still, very stressful in many ways. Diana helped to alleviate that stress. I will forever be appreciative.  –Karyn Neujahr, Mother of the Bride
Diana added magic to our ceremony. Our wedding was held in the forest and Diana was very accommodating with our simple set up. She was lovely to work with. The day would not have been the same with out her beautiful music!  –Katie Hotchkiss, Bride
Diana was professional, friendly, on-time and absolutely wonderful to work with. She is extremely talented and a pleasure to listen to! I would definitely hire her again! –Amanda Holder, G.S.D Owner and Lead Designer, Amanda Holder Events
Diana played for our wedding in Monterey, CA and she was spectacular! All of our guests were raving about how beautifully she played. We will definitely be hiring Diana again for future events 🙂  ~ Nicole and Mariella, Brides
Diana Stork's harp playing was, quite frankly, the highlight of our wedding. The transcendent tones of Diana's original compositions transformed what could have been a hyper-traditional church service into an unforgettable, meditative experience. Before our wedding, Diana was extremely attentive to our needs when creating a music selection list and planning the sequencing of the music. She provided a lot of music options for us to choose from. She was also very patient, professional and gracious when dealing with some challenges that came with coordinating with the church officials.  –Dr. Kenya Mitchell, Bride
Diana's presence and playing made all the difference at our party.  She played beautifully, and everyone enjoyed it. We heard so many positive comments about Diana and her music. The mix of classical, folk and popular music for the reception worked very well. It was just a perfect fit. Diana was well-organized and very professional. We are recommending her to all our friends. –Jim and Victoria
Diana is an amazing harpist. She made our wedding Perfect! She engaged with our family and friends which was an added bonus. She was definitely the best and we would highly recommend her. ~ Wendy, Bride
Diana was so easy to work with and such a lovely person! She played at a celebration of life ceremony for my husband and her music was perfect. –Robin Bereny