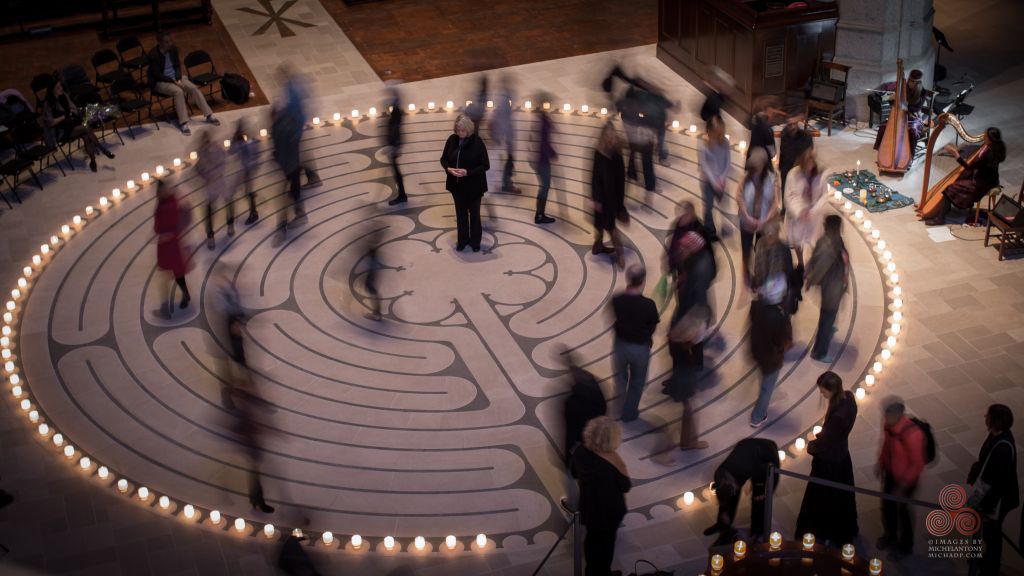 Labyrinth Harp Music
For thousands of years, human beings have created paths known as labyrinths for reasons ranging from blessing to pilgrimage and healing.
Diana Stork played her harp at the first labyrinth walks at San Francisco's Grace Cathedral in 1991. Over her many years of playing at labyrinths throughout the world, Diana has composed and improvised a large body of music inspired by these sites and the people who move through them.
Diana offers the unique experience of walking the Labyrinth to harp music. Harp music always adds a deepening of the labyrinth experience. Her harp music can be played at churches, hospitals, schools, parks, and wherever there are labyrinths.
Also available is a portable, easily-assembled canvas labyrinth which she can bring to events when labyrinths are not present. A labyrinth can be set up at a funeral or memorial service to help those present to process their grief; or at a wedding to provide the guests with something unique and special to do before the ceremony begins. A labyrinth can be brought to a spiritual service to strengthen prayer and meditation; or to a corporate event to help to gather folks together and focus.
Diana has created spiritual, mythic and deeply beautiful music from decades of performing at labyrinths throughout the world. Her performances can be experienced as musical concerts inspired by Medieval, Celtic, classical and even jazz improvisation styles, and also as inward journeys of healing and meditation.
Diana is a certified Veriditas – trained Labyrinth Facilitator, trained by               Lauren Artress, the Founder of the modern labyrinth movement.
To book Diana, please contact dianastork@harpdancer.com.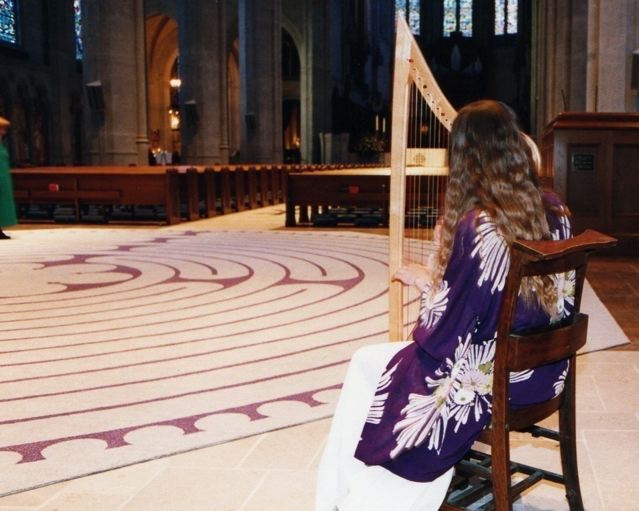 About the Labyrinth
Currently, labyrinths are being used as tools for walking meditation, and have only one path to the center.  Some labyrinths have as few as 3 circuits, while the Chartres style labyrinth has 12 circuits that form an elaborate meandering pattern, based on sacred geometry.  A replica of the Chartres labyrinth is now laid in stone at Grace Cathedral in San Francisco, thanks to the pioneering work of Lauren Artress and Veriditas.  For more information about the labyrinth, visit veriditas.org.
Labyrinths provide a sacred space for focusing awareness, many kinds of movement, and healing. Listening to music can deepen and enhance your labyrinth experience. Unlike a maze that you can get lost in, there is only one pathway to the center of a labyrinth and one way out – returning to the beginning by the same path. On indoor and outdoor labyrinths there is the possibility for contemplative walking, dancing, and sitting for any period of time in the center. Some people experience the labyrinth in three phases: letting go on the inward journey, receiving in the center, and integrating while exiting the labyrinth. There is no right or wrong way to use a labyrinth.
Events
Labyrinth walks with harp music could be used for concerts, special gatherings, church events, memorials, celebrations, weddings, private functions and special events.
To book an event with our beautiful Chartres-style canvas labyrinth and live harp music, contact dianastork@harpdancer.com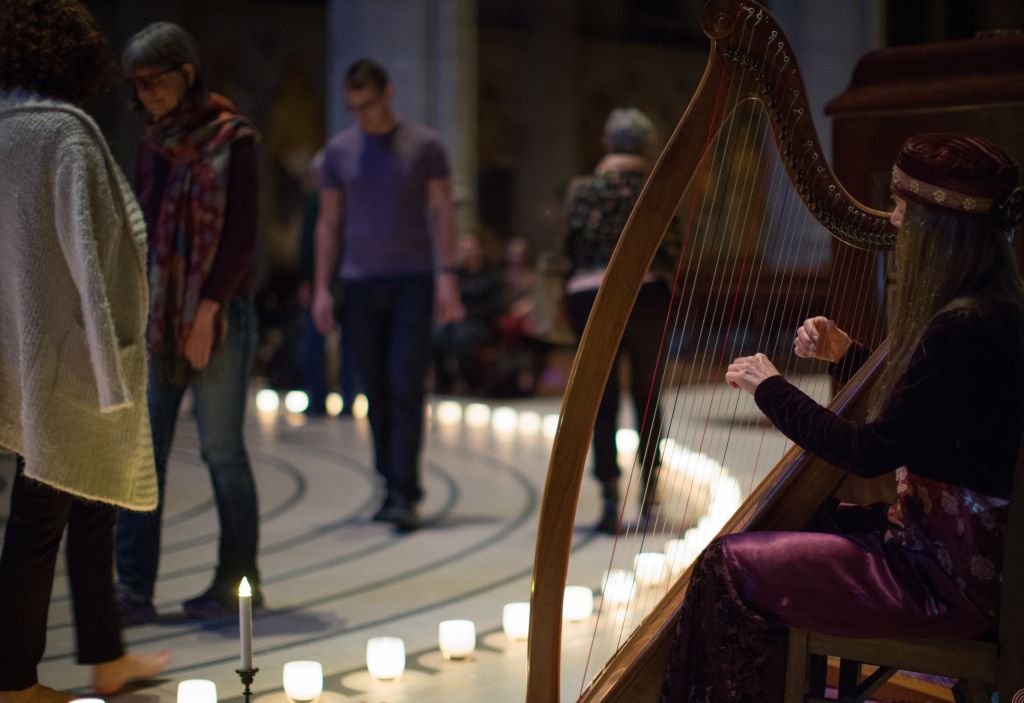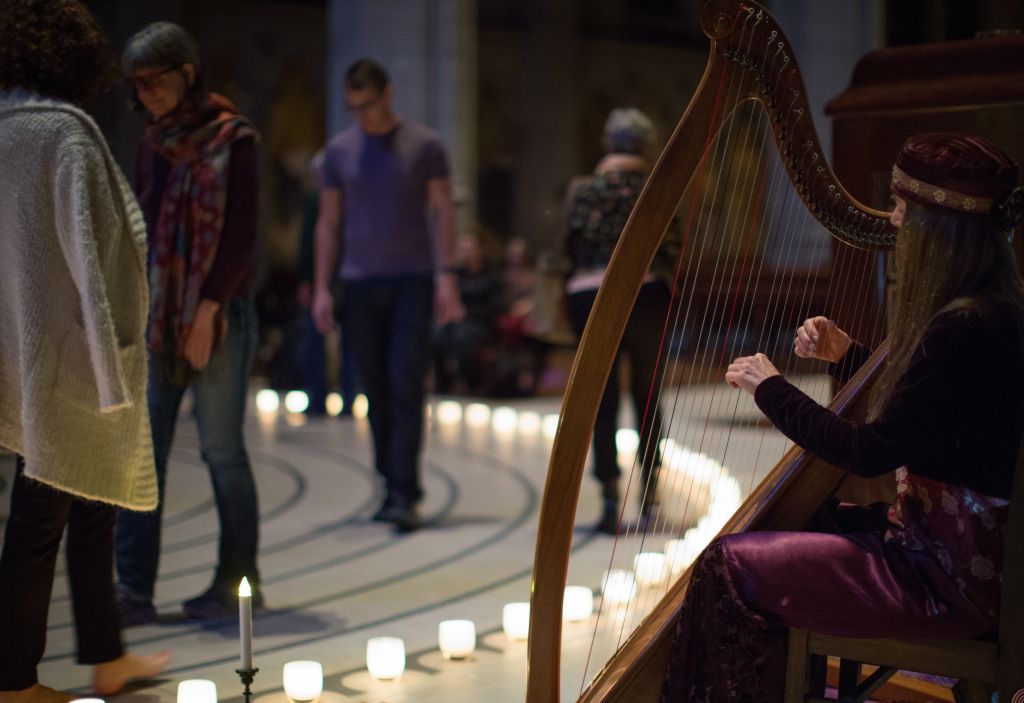 To buy "Music from the Labyrinth – from Chartres to Grace", visit cdbaby.com .