Labyrinth Harp Music
For thousands of years, human beings have created paths known as labyrinths for reasons ranging from blessing to pilgrimage and healing.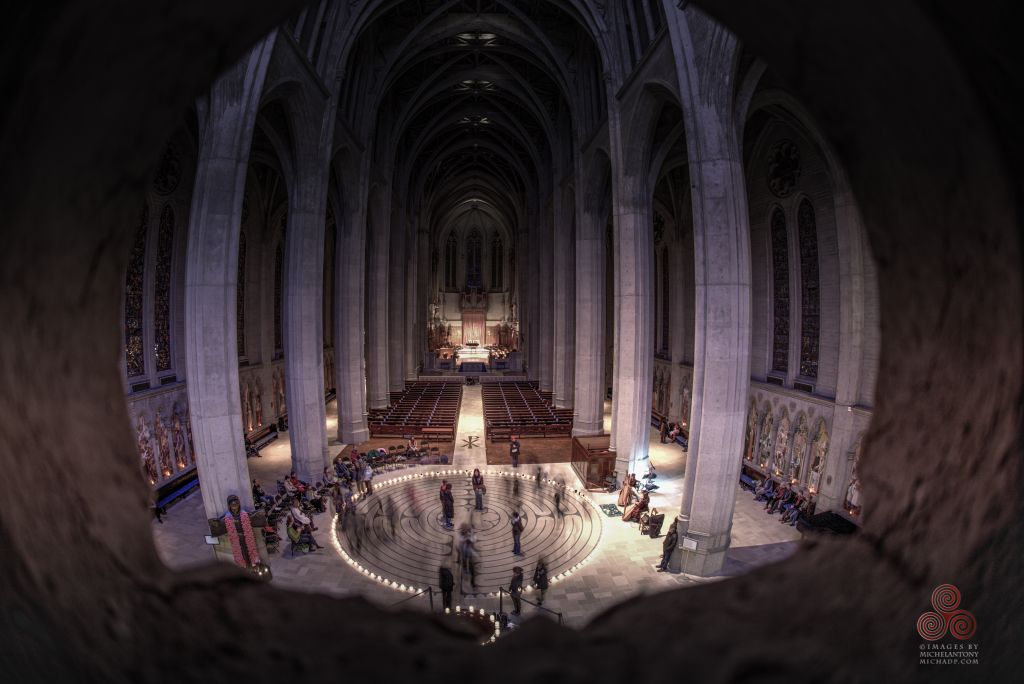 Diana Stork played her harp at the first labyrinth walks at San Francisco's Grace Cathedral in 1991. Over her many years of playing at labyrinths throughout the world, Diana has composed and improvised a large body of music inspired by these sites and the people who move through them.
Diana offers the unique experience of walking the Labyrinth to harp music. Harp music always adds a deepening of the labyrinth experience. Her harp music can be played at churches, hospitals, schools, parks, and wherever there are labyrinths.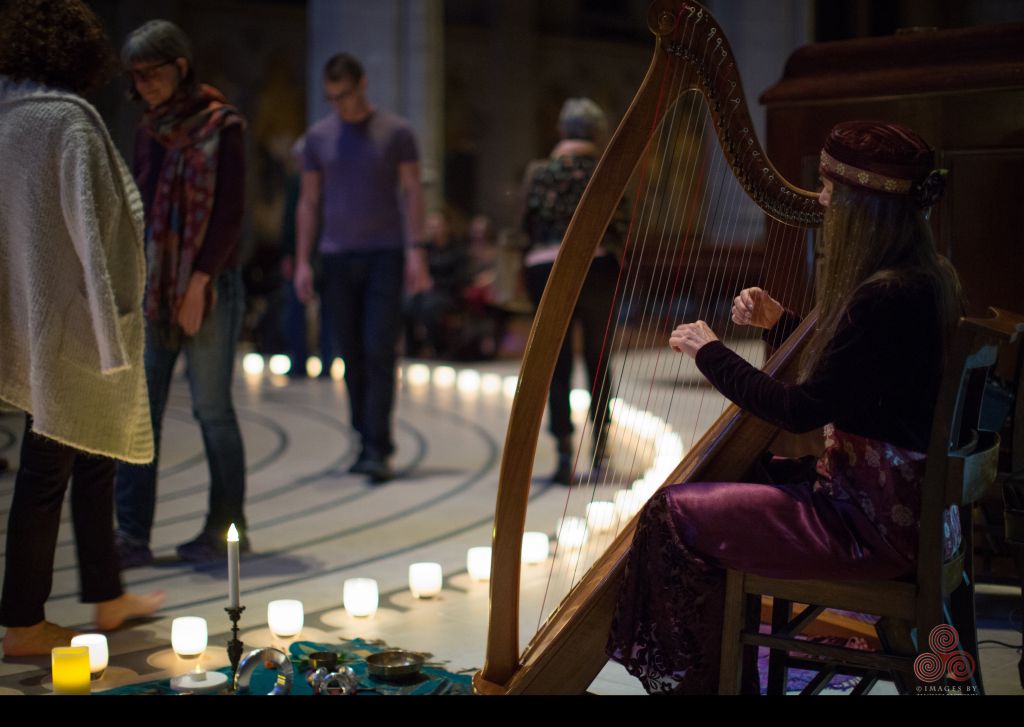 Her performances can be experienced as musical concerts inspired by Medieval, Celtic, classical and even jazz improvisation styles, and also as inward journeys of healing and meditation.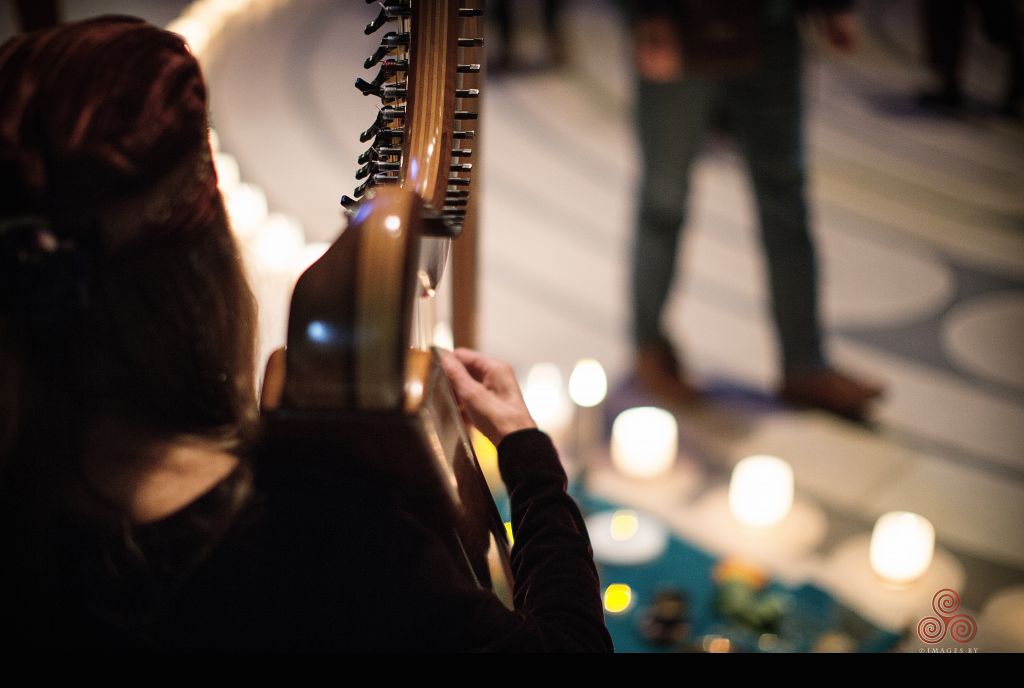 Diana is a certified Veriditas – trained Labyrinth Facilitator, trained by               Lauren Artress, the Founder of the modern labyrinth movement.
Harp Music and Labyrinth Walk for Memorials, Funerals, and Celebrations of Life
Diana Stork offers her music with sensitivity and compassion–bringing light and love at this special time. Diana's harp music creates a harmonious and sacred space for processing grief, for remembrance, and for a celebration of life.
Also available is a portable, easily-assembled canvas labyrinth which she can bring to events when labyrinths are not present. A labyrinth can be set up at a funeral or memorial service to help those present to process their grief; or at a wedding to provide the guests with something unique and special to do before the ceremony begins. A labyrinth can be brought to a spiritual service to strengthen prayer and meditation; or to a corporate event to help to gather folks together and focus.
To book Diana, please contact:  [email protected]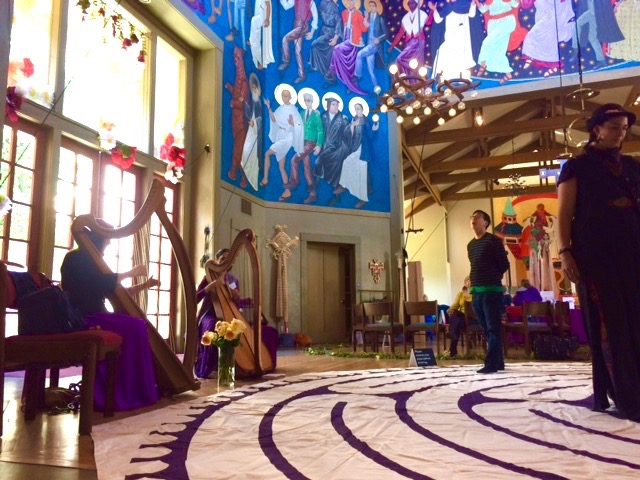 Harp Duo for Labyrinths ~ Diana and Portia Diwa                                                                                              Diana has been playing with Harpist Portia Diwa for decades at labyrinths through the World.  They are featured every year at Grace Cathedral's popular December Labyrinth Walk. Listen to their harp duo on their CD, Music from the Labyrinth. For a Special Event, they are available to play at your Labyrinth.  They can include bringing their canvas labyrinth upon request.
For more information about Diana's music with Portia, and to book a duo Labyrinth event, contact Diana at: [email protected]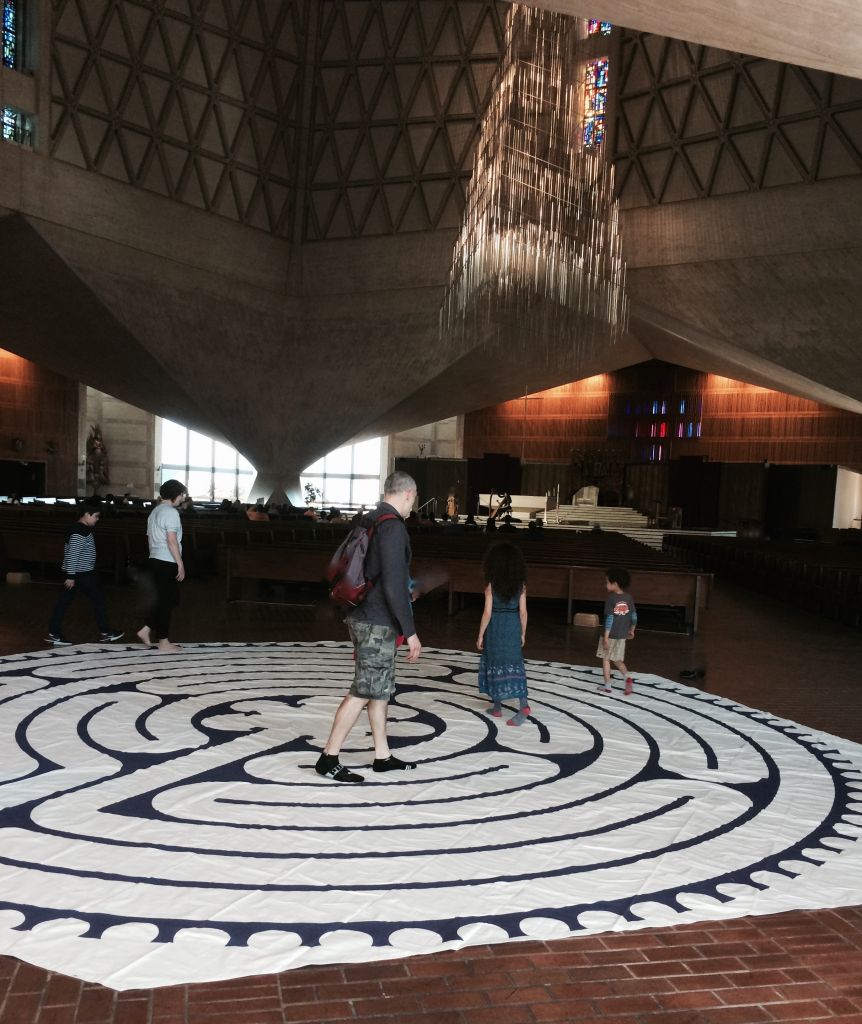 About the Labyrinth
Currently, labyrinths are being used as tools for walking meditation, and have only one path to the center.  Some labyrinths have as few as 3 circuits, while the Chartres style labyrinth has 12 circuits that form an elaborate meandering pattern, based on sacred geometry.  A replica of the Chartres labyrinth is now laid in stone at Grace Cathedral in San Francisco, thanks to the pioneering work of Lauren Artress and Veriditas.  For more information about the labyrinth, visit veriditas.org.
Labyrinths provide a sacred space for focusing awareness, many kinds of movement, and healing. Listening to music can deepen and enhance your labyrinth experience. Unlike a maze that you can get lost in, there is only one pathway to the center of a labyrinth and one way out – returning to the beginning by the same path. On indoor and outdoor labyrinths there is the possibility for contemplative walking, dancing, and sitting for any period of time in the center. Some people experience the labyrinth in three phases: letting go on the inward journey, receiving in the center, and integrating while exiting the labyrinth. There is no right or wrong way to use a labyrinth.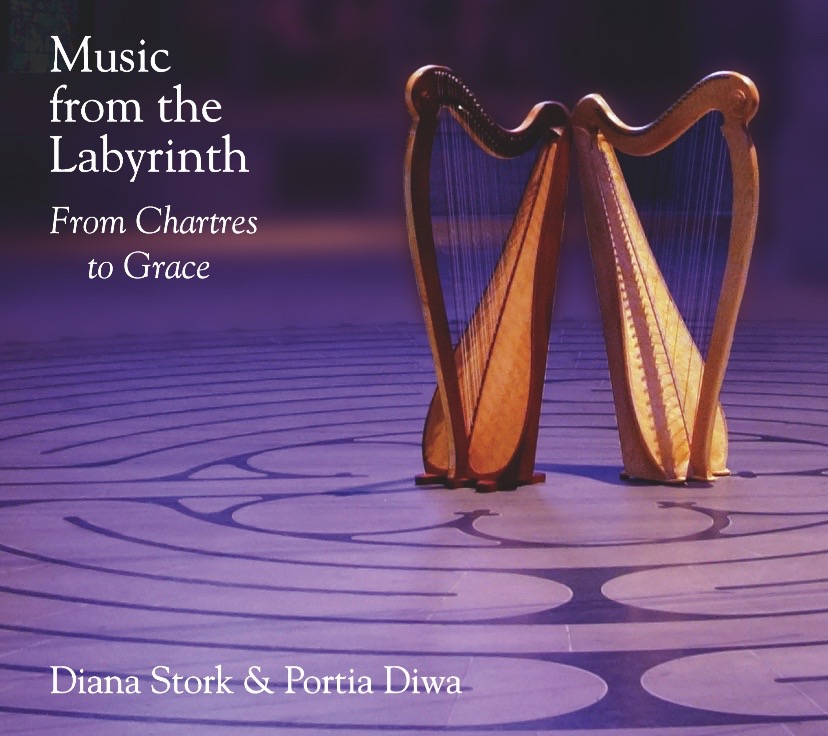 Music from the Labyrinth, from Chartres to Grace ~ Diana Stork & Portia Diwa ~ Lever and Medieval Harps
Diana played her harp at the first labyrinth walks at San Francisco's Grace Cathedral in 1991 on a hand-painted canvas labyrinth. As Labyrinth Director Lauren Artress continued to expand the labyrinth experience at Grace and throughout the world, harpist Portia Diwa joined Diana.  The canvas labyrinth was eventually replaced with a hand-crafted rug; which finally became the beautiful 12-circuit stone labyrinth permanently installed in the floor of Grace Cathedral. Over their many years of playing at Grace's indoor and outdoor labyrinths and at labyrinths throughout the world, Diana and Portia have composed and improvised a large body of music inspired by these sites and the people who move through them. On this recording they are joined by San Francisco Bay Area musicians: Shira Kammen on vielle, Dan Reiter on cello, Peter Maund on percussion and Elaine Coombs also on cello.
Comments:
Music from the Labyrinth" is always among our most popular items–it is my personal favorite to listen to in the Veriditas office! ~ Jenny Slama
A stunning cd! I played it at my workshop, and it inspired everyone to dive into deeper inner reflection and connection to oneself and others. i love that it has a labyrinth that can be removed from the CD pocket and used for meditation along with the music. It is a real treasure! ~ Rhonda Gerhardt, Therapist, Sonoma County CA
I adore your CD Music from the Labyrinth – listen to it all the time! I find your pieces beautifully mesmerizing!  I am a blind harpist and I use my large iPro to listen and learn some of the pieces. ~ Rose & Guidedog Vega🐾🐾
I write this under my headset while I listen to Music from the Labyrinth.
It is lovely! Thank you so much for staying true to your creative fires along
with the hard work and guts it takes to birth a creative project of such fine quality
as this. I was looking for new music to write by when I reopen my book. This will be at the top of my list for sure. Many thanks for the lovely gift of your work. ~ Lauren Artress, Founder, Veriditas, and the international Labyrinth movement.
As a drummer coming from hard rock and world music traditions,  I was surprised at how captivating I found Music from the Labyrinth to be. My favorite aspect of this recording is how Diana Stork and Portia Diwa's exquisite harp playing seamlessly interact. Two distinct-sounding instruments, yet I find myself not unable to tell where one harp's sound ends and the other begins. Perfect counterparts. ~Andy Graham, Musician, Recording artist, Producer
I love your "Music from the Labyrinth" album. I've been listening to it repeatedly since I got it. ~ Charlotte Bear, Director, Suncrest hospice
After listening to your recording several times, i find there is one selection that so delights and moves me that I can hear it again and again and never get tired of it (Track #2 – "Non Sofre", a prayer from the Middle Ages to bring happiness and peace, and to relieve suffering). If Ravel had wanted to write a piece for two harps and vielle, this would be it. This piece quite simply fills me with joy. Thank you for the beautiful work that you do in this world. ~ Nancy Herington
CD can be purchased on Diana's website at: https://harpdancer.com/product/music-labyrinth-chartres-grace                                 and at CD Baby: https://www.cdbaby.com/cd/dianastork14
NOTE:  CD purchase includes a detachable 4″ square laminated personal labyrinth which can be used for years of labyrinth meditation.
Also available as digital downloads at:
https://www.cdbaby.com/cd/dianastork14
and available on iTunes