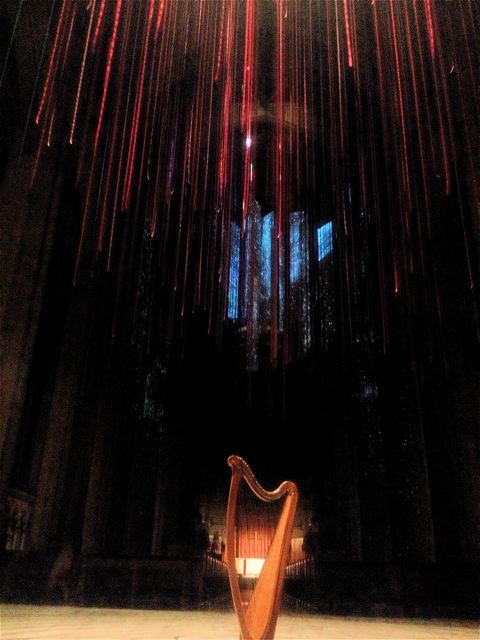 Diana's been working on some new recordings…  
The first (now out and available on CD Baby) is a healing CD called, A Light in the Darkness – Support Along the Journey of Grief. with Julia Ellis, MA, Hospice Bereavement Counselor, Guided Meditation, and Diana on Harp.  Some words by Julia about this recording: "While grief is a universal experience, your grief is unique. You may find it overwhelming, or you may find it hard to access at all. Wherever you are on your journey through grief, this recording offers guidance and support, and invites you into a place of greater compassion for yourself. — I'm very proud of this CD and have already seen it helping a number of people who are grieving."
Just released in November of 2016 is a recording of music Diana's written and performed by San Francisco's Grace Cathedral Labyrinth for over 25 years. Joining her is her longtime musical student and now musical partner, harpist Portia Diwa.  Music from the Labyrinth, from Chartres to Grace, has happily been released and is now available thru this website, in stores, and on CD Baby.
Diana and husband Teed Rockwell travelled to Ireland in June 2013 to explore the beautiful country and to research traditional Irish harp music.  They visited Trinity College where they saw the ancient Brian Boru harp, and stayed at the Irish Harp Center, run by one of Ireland's finest traditional harpers, Janet Harbison.  Janet is undoubtedly the most important teacher of traditional Irish harping in all of Ireland (and the world for that matter), and Diana was deeply inspired by hearing Janet discourse on her methods of teaching. She also enjoyed walks by the Shannon River, meals together, and staying up late sharing tunes on the harp. Diana and Teed also visited County Clare on the West Coast for the Clare County Fleadh–the annual music competition of traditional music.
On September 15th, Diana headed to France with her Medieval harp to play for the Sacred Feminine conference, with Lauren Artress, of Veriditas, and Judith Tripp–both spiritual pioneers and leaders in the reemergence of the Sacred Feminine. The conference was held in the beautiful medieval city of Chartres, one hour West of Paris.  Highlights of Diana's week in Chartres was  playing harp by the magnificent 1,000 year old stone labyrinth in Chartres Cathedral, and recording music written for Mother Mary in the chapel of Maison St. Ivres, a converted monastery near the cathedral.  Also very special was waking up one night to watch the full harvest moon rising between the twin towers of Chartres  cathedral.
SE Alaska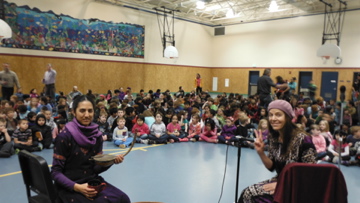 Spring 2013…. notes on a tour of SE Alaska with former student and now bandmate Portia Diwa. We arrived to 20 degree weather, drove on icy roads, and played while snow fell gently around us. We had a wonderful trip traveling up the Inside Passage on the Matanuska ferry with a slew of harps–African Nyatiti bow harp, medieval harp, hand-carved Celtic lap harp, & two modern lever harps.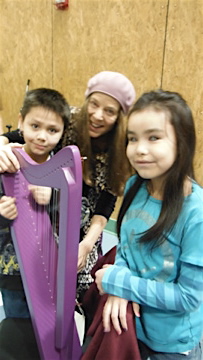 We began our tour with a free performance at the sacred Shrine of St. Therese surrounded by magnificent views of mountains, eagles, and the mighty waters of the Gastineau Channel.  We gave many lecture-demonstrations for children in schools throughout SE Alaska – sharing music and information on harps from around the world. Many children had never seen or heard a harp before!  We were very impressed with the work of music teacher Lauri Heagy at Glacier Valley School who has developed a world-class music program for the young musicians. Diana and Portia's tour was sponsored by the Alaska Folk Festival and the Multicultural Music Fellowship; and the kind and generous efforts of the Juneau and Haines harp communities.