2021
I began 2021 on a longtime beloved project – my musical settings of a number of mostly Buddhist Chants.  I made good progress in January; and though I'm back with online teaching, I'll be continuing to work on this throughout the Spring.
Late last Fall, I offered an online course which I called, "Mindful Moments".  In it I incorporated some basic mindfulness meditation techniques with a variety of breathing exercises – integrating these basic aspects of mindfulness meditation with the harp.  it was well-received, and I hope to offer this course again sometime this Spring or Fall.
Also this Fall, I made a video for the Crowden School of Music's annual "Community Music Day". This year, of course, everything was online.  You can still view this wonderful musical day of music on their website's homepage.  My "History of the Harp" presentation is about 20 minutes into the video: https://www.youtube.com/user/CrowdenMusicCenter
I have tentatively accepted a few in-person performances – though these may revert to zoom. Please keep checking my events page for updates.
I continue as Director of the Multicultural Music Fellowship – a non-profit dedicated to bringing the world together though music – especially the harp. Go to: www.multiculturalmusicfellowship.org to learn more about our work.
As we move into a new year with the hope of new leadership in Washington, and the early stirrings of spring and new life –  let's roll up our sleeves and do what we can to create a World in Harmony.
~Diana                                                                                                                            January 19, 2021
*******************************************
June 2020 – I have been working diligently from last Fall through the present time to revise and update some of my favorite music.  I've happily completed three of my pieces which are now available:  California Celtic, Harp Crossings, and Dangerous Waters~for Harp and Cello.  I'm now joining the 2020's and all of these new musical offerings are available in both Print and PDF digital versions.  Visit my Shop to learn more  about my music.  Feel free to contact me if you have any questions.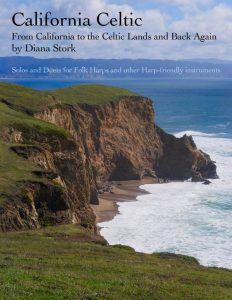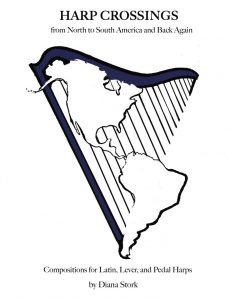 June 20, 2020 – Summer Solstice Virtual Ritual ~ 2 – 3 pm. Join Diana Stork, Harp, Teed Rockwell, Touchstyle Vina, DiTraci Regula, High Priestess of Isis, and Terri Woodfolk, Poetry and Ritual for a VIRTUAL RITUAL as they share Music Poetry and ritual to celebrate the longest day of the year – the summer solstice.  Details at: www.isisoasis.org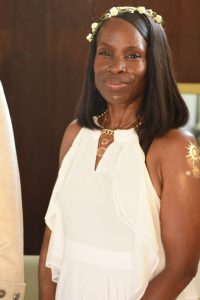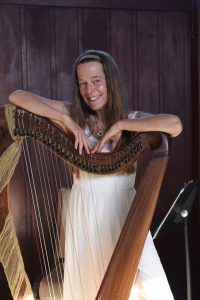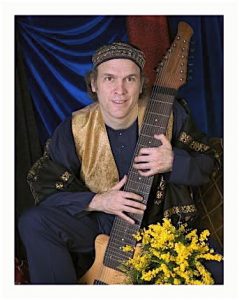 October – 2019 NEWLY RELEASED ~ Harp Crossings ~ From North to South America and Back Again – Diana has just completed her book Latin-inspired compositions. Just released, Harp Crossings has been getting great reviews from Latin, Lever and Pedal Harpists. Learn more about the book and how to purchase Harp Crossings by going to SHOP and then BOOKS on this site, or by visiting: https://harpdancer.com/product/harp-crossings/
June 2019 ~ Diana helped others to celebrate the Summer Solstice this June with a musical program of Harpists at Isis Oasis Retreat Center in Geyserville, CA. This was a wonderful reunion of her a large number of her harp students, who ranged from age 10 to 70+! The Ritual included music from a variety of world harp traditions and a # of Diana's original compositions, along with many beautiful poems and rituals.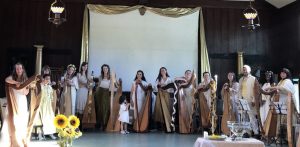 June 2018 ~ Trip to Mexico ~  Diana and her husband Teed Rockwell journeyed to the mountains of central Mexico to study the rich culture and traditional harp music of the area. While there, Diana studied some of the the music from Veracruz (sones Jarochos) with Arpista Sergio Basurto. She also performed some traditional and original compositions on harp, with Teed on percussion, at the Shelter Theatre in San Miguel de Allende. The audience was quite surprised to hear an American woman playing Latin harp music; and many women came up to her afterwards asking about playing the harp. Diana feels strongly that it's a good time for more women to play harp in Mexico, and hopes to return to help set up lessons for young women.
Spring 2018 ~  New Harp Group ~  Dancing Strings Harp Ensemble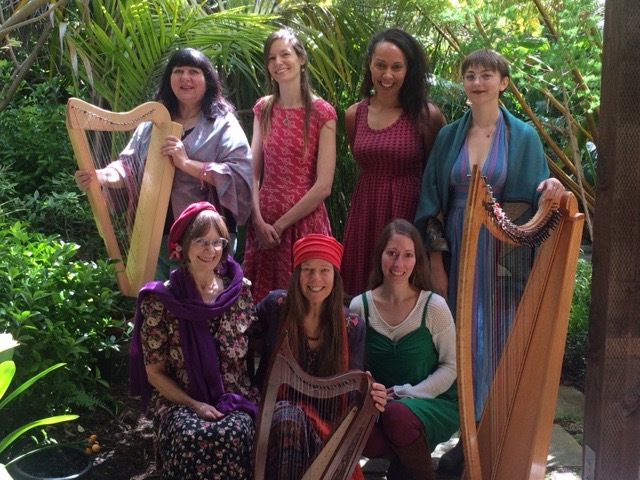 The newly formed Dancing String Harp Ensemble consists of a number of Diana's students who're dedicated to bringing the world together through the music of the harp. DSHE performs a wide range of world, sacred music, and compositions composed expressively for the harp. The ensemble features the members playing on a variety of Celtic-style lever harps. Their first performances will be end of May and early June throughout the East Bay. Check Diana's events page for dates and details.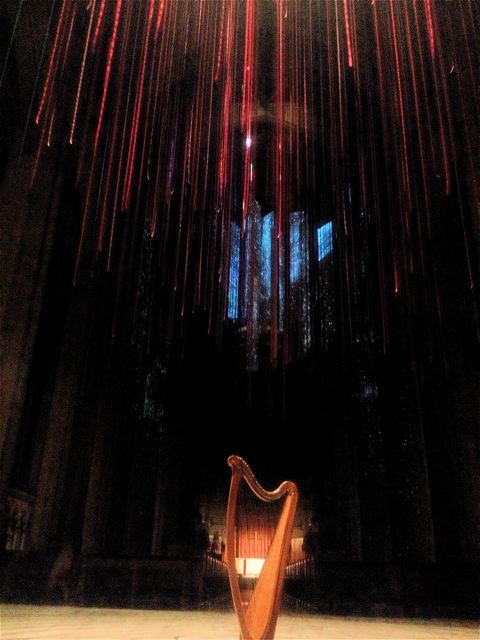 Now out and available on CD Baby is a healing CD called, A Light in the Darkness – Support Along the Journey of Grief. with Julia Ellis, MA, Hospice Bereavement Counselor, Guided Meditation, and Diana on Harp.  Some words by Julia about this recording: "While grief is a universal experience, your grief is unique. You may find it overwhelming, or you may find it hard to access at all. Wherever you are on your journey through grief, this recording offers guidance and support, and invites you into a place of greater compassion for yourself. — I'm very proud of this CD and have already seen it helping a number of people who are grieving."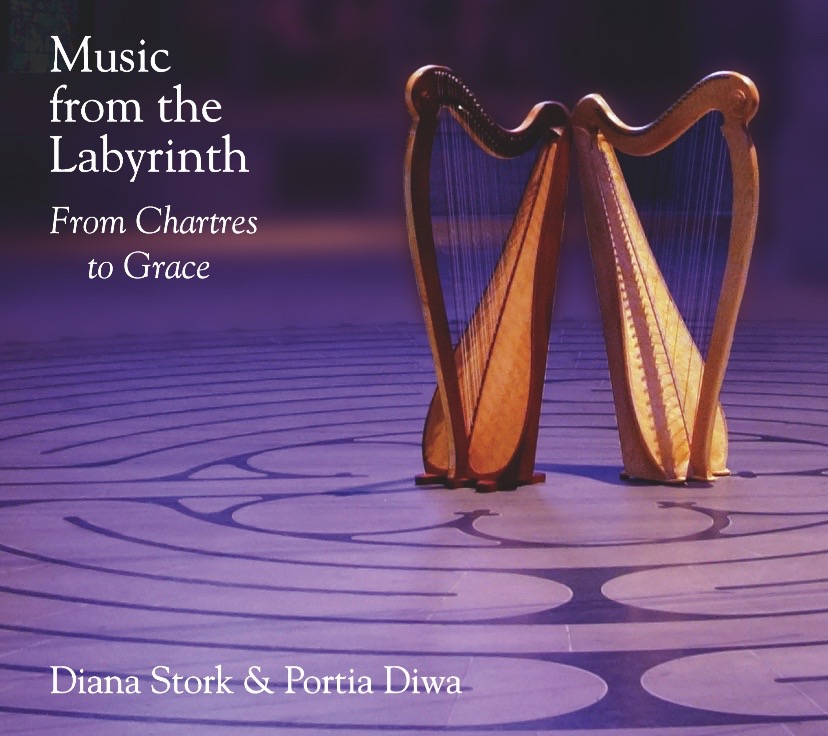 A recording of music Diana's written and performed by San Francisco's Grace Cathedral Labyrinth for over 25 years. Joining her is her longtime musical partner, harpist Portia Diwa.  Music from the Labyrinth, from Chartres to Grace, has happily been released and is now available thru this website, in stores, and on CD Baby.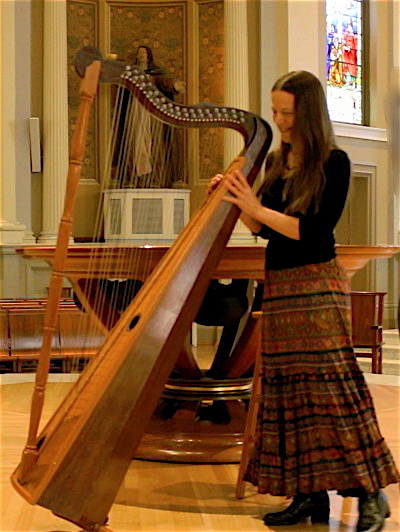 January 2018 – Diana will be heading into the studio to record some of her Latin harp music. This includes the Jalisco music of Mexico – notably arrangements by her teacher, Jalisco harp maestro William Faulkner, along with some of her favorite traditional pieces from the "arpa llanera" music of Venezuela and Columbia. Diana will also be recording a number of her own Latin-style compositions.
Diana and Portia Diwa ~ TOUR of Southeast Alaska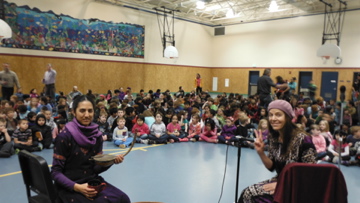 … notes on a tour of SE Alaska with former student and now bandmate Portia Diwa. We arrived to 20 degree weather, drove on icy roads, and played while snow fell gently around us. We had a wonderful trip traveling up the Inside Passage on the Matanuska ferry with a slew of harps–African Nyatiti bow harp, medieval harp, hand-carved Celtic lap harp, & two modern lever harps.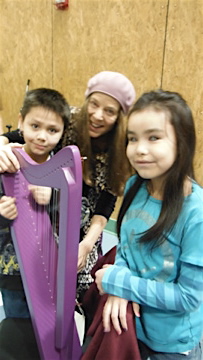 We began our tour with a free performance at the sacred Shrine of St. Therese surrounded by magnificent views of mountains, eagles, and the mighty waters of the Gastineau Channel.  We gave many lecture-demonstrations for children in schools throughout SE Alaska – sharing music and information on harps from around the world. Many children had never seen or heard a harp before!  We were very impressed with the work of music teacher Lauri Heagy at Glacier Valley School who has developed a world-class music program for the young musicians. Diana and Portia's tour was sponsored by the Alaska Folk Festival and the Multicultural Music Fellowship; and the kind and generous efforts of the Juneau and Haines harp communities.